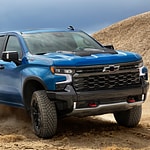 To be clear, the maximum towing capacity of 2023 Chevrolet Silverado is one of the most important features to consider when purchasing a utility vehicle. This is because it will determine what types of loads you can tow and how much weight they can hold. For example, if you need to tow heavy loads frequently in your line of work or for personal use, then having a high maximum towing capacity will save you time and money by allowing you to pull heavier loads with less strain on your vehicle's engine.
The Silverado's Bed View camera is a great way to see what's inside your truck bed. The camera is mounted in the tailgate and connects with your touchscreen display, giving you an unobstructed view of what's behind or in front of your truck. It's a feature that makes it easy to position cargo and unload items without having to climb into the bed, or risk an injury doing so.
The Silverado has storage for small items in the rear under-seat and seatback areas. The storage is easily accessible by the rear passengers, which makes it perfect for storing a purse or laptop while keeping them within reach of all passengers.