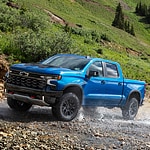 The base model Chevrolet Silverado 1500 here at KI-PO Motors Chevrolet, Inc. comes standard with a 2.7-liter turbocharged four-cylinder engine that gives drivers in Ransomville, NY 310 horsepower and 420 pound-feet of performance torque. It's paired with an eight-speed automatic transmission. This powertrain is capable of towing up to 7,800 pounds. Plus, this powertrain offers fuel efficiency as well.
If you need more power, the Chevrolet Silverado 1500 offers two V8 engine options. The first is a 5.3-liter V8 that produces 355 horsepower and 383 lb.-ft. of torque. It's paired with a six-speed automatic transmission. This engine can tow up to 11,100 pounds. The second V8 engine option is a 6.2 liter that offers a powerful 420 HP and 460 pound-feet of torque.
The Chevrolet Silverado 1500 will continue to offer its Duramax 3.0 liter inline six diesel engine, which provides the highest torque at 495 pound-feet and up to 305 HP.