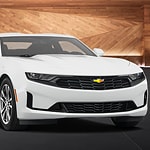 Many drivers in Ransomville, NY say there is nothing quite as exhilarating as driving a Chevrolet Camaro here at KI-PO Motors Chevrolet, Inc.. This popular sports car is known for its powerful engine, stylish appearance, and a sweet ride. The one thing that really enhances the 2022 Chevrolet Camaro's sweet ride is the numerous technology features.
The infotainment system is not only very user-friendly but also comes with wireless Apple CarPlay and Android Auto. Imagine never having to miss an important phone call because you're in your vehicle away from home. With wireless internet, there is very little you can't do on your phone while you're driving.
With dual-control heating, passengers and drivers can control the heat on their own side. Other technology features include remote start, Wi-Fi hotspot, satellite radio, Bluetooth, wireless device charging, navigation system, and a 7" to 8" display screen. The 2022 Chevrolet Camaro also offers many technology-based performance and appearance packages.